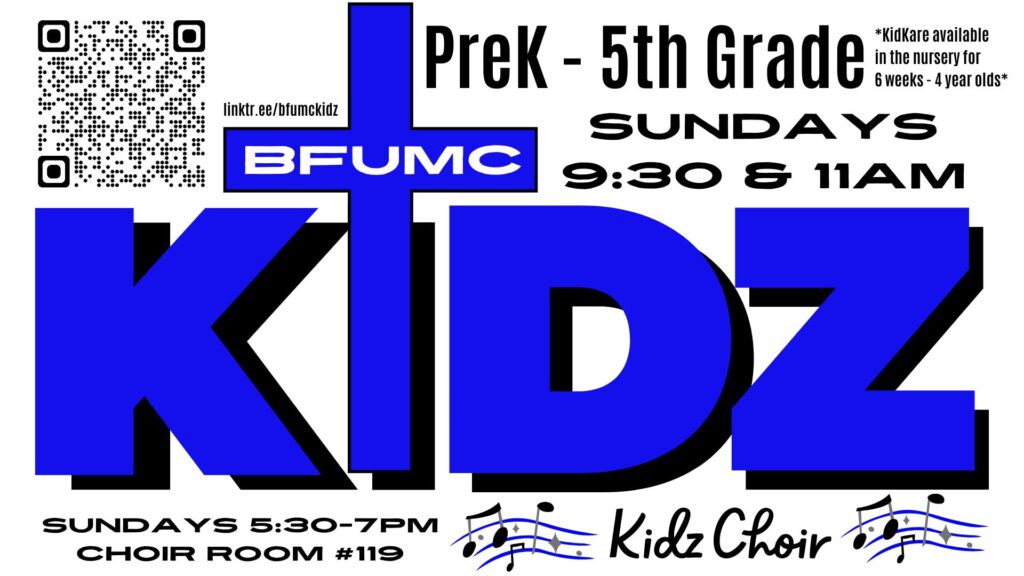 Bethlehem First United Methodist Church is a family of faith that is passionate in its commitment to children and families. We seek to partner with families in providing a spiritual foundation through Jesus Christ in the lives of our children.
At BFUMC our goal is to provide age appropriate opportunities for children to grow as followers of Jesus Christ. They will experience the how God is present with them and participate in the of the church. They will learn to use their Bible, pray, give, serve, and share the good news of God's love and grace. Our desire is to provide quality and relevant experiences through our ministry opportunities.
If this is your child's first time here this school year, please fill out the family information form HERE. (If you are unable to fill it out online, we have paper copies available).
On Sunday mornings, Kidz meet during both the 9:30am and 11:00am worship services in The KidZone (located in the Fellowship Hall). Kidz Church is for kidz in PreK-5th grade who can use the restroom unassisted and sit through an hour of videos, large group discussions, activities, and fellowship.
*KidKare Nursery is available for kidz 6 weeks – 4 years old who cannot attend Kidz Church without additional supervision. KidKare Nursery is staffed with paid employees who are trained and better equipped to take care of those children.
Kidz Choir meets on Sunday evenings during the school year from 5:30-6:30pm (for specific meeting dates, click the link below).
To stay up to date on all of our upcoming events click HERE!
Getting connected…
For help plugging into our children's ministry, feel free to reach out to our Children's Director, Trish Johnson (see form below).