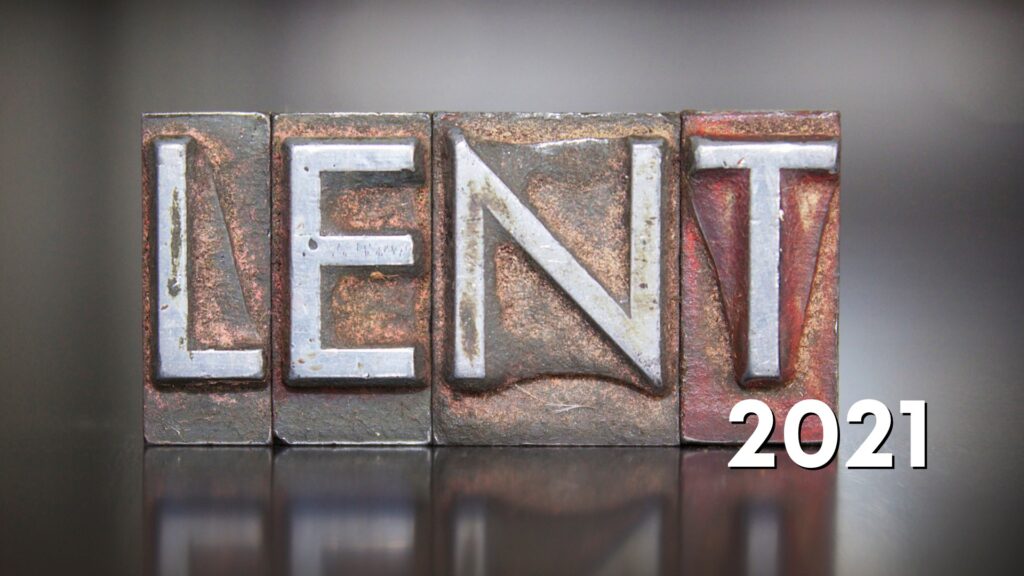 Turning on the news quickly reveals the uncertain times we're living in. Economic insecurities, stock market volatility, eruptions of violence, racial injustice, social unrest, political upheaval, threats of war, and natural disasters all affect our lives, communities, nation, and entire world. Our individual lives are often unsteady as well: relationships fall apart, plans falter, jobs fail, loved ones pass, sickness invades, anxiety overwhelms, and confidence drops. Most of us find uncertainty to be very uncomfortable. We prefer stability and a predictable future to the unknown and uncertain. We want to control our own future! However, that is not always possible. Jesus never promised us we wouldn't have trouble or uncertainty in this world; but He did encourage us to take heart, because He has overcome the world. This Lenten season rather than avoid or ignore the uncertainties of life, we will discover ways to face them with confidence; and discover that our faith is strengthened when we face the uncertainty of life with a certain faith in Christ.
Take some time with your family and in prayer with God to determine how you will use this sacred season to give up the things that distract you from your important relationships, what you will add to help you connect to God, and how you will serve others. For more great ideas, click HERE.
This Lenten season as we journey with Jesus on His way to Jerusalem, where He will be crucified, we will explore six stories where individuals faced the uncertainties of life. These stories of uncertainty will show us how to follow Jesus with courage, obedience, and the hope of the resurrection. In our unpredictable world there are few guarantees in life; however, when we embrace the uncertainties of life and make the decision to follow Jesus despite the unknowns, we will discover the assured rewards of our faith.
Sunday, February 21 – The Uncertainty of Faith(Mark 9:14-29)
Sunday, February 28 – The Uncertainty of Forgiveness(Matthew 18:21-35)
Sunday, March 7 – The Uncertainty of Worry(Luke 12:1-34)
Sunday, March 14 – The Uncertainty of Death(John 11:1-44)
Sunday, March 21 – The Uncertainty of Surrender(Luke 19:1-10)
Sunday, March 28 (Palm Sunday) – The Uncertainty of Obedience(Matthew 26:36-46)
Sunday, April 4 (Easter) – The Certainty of the Resurrection!(Matthew 28:1-7)
We hope you will worship with us Sunday mornings at 9:30am for our Contemporary Service in the Worship Center or at 11am for our Traditional Service in the Sanctuary. All of our services are streamed live on our Roku channel, our Facebook page, and our website. You can access them at anytime after that on our YouTube channel, Facebook page, or website, which are all linked on our LINKTREE.
To help you focus on this sacred season of preparation, we will be posting weekly short devotional videos on Wednesdays at noon. You can access these through our linktree, as well as on our Facebook page and YouTube channel, which are linked on our LINKTREE.
We have additional prayers and activities you can do with your entire family during this Lenten Season, including buring your own ashes for Ash Wednesday, available on our LINKTREE.
Holy Week is the week between Palm Sunday and Easter that celebrates the Passion of Jesus Christ. It is a time to recall the events leading up to Jesus' death and be grateful for His sacrifice on behalf of our sins.
During Holy Week, we will have DAILY short devotional videos Monday-Thursday at noon, with a special in-person GOOD FRIDAY SERVICE in the Sanctuary at 7pm, which will also be streamed LIVE on our Roku channel, Facebook, and our website. You can access all of these videos later on our YouTube channel and Facebook page, which are linked on our LINKTREE.
If you get "egged" by our congregation, you'll find, among your candy filled eggs, 12 "Resurrection Eggs." Use these to help tell your children the Easter Story. You can do it all in one day, split it up over the "holy days," or do a little each day of the week. For videos, songs, activities, and coloring sheets, check out our Easter 2021 Pinterest board on our kids' LINKTREE.
If you get "egged," please be sure to "pay it forward" and share your experience on social media! You can tag us @bethlehemfirstumc or @bfumckids on Facebook or Instagram (links on our LINKTREE) with #ivebeeneggedbybfumc. For more detailed information on how to "pay it forward," check out I've Been Egged by BFUMC on our LINKTREE.
Because we still can't host our HUGE annual Easter Egg Hunt, we're going to have a little Spring Fling similar to the Fall Festival we had back in October. We'll have food, inflatables, games, and mini egg hunts from 12-2pm on Saturday, March 27th. You can RSVP and sign up to volunteer at this event on our LINKTREE.
We would love your help getting candy and filling eggs as well! Please reach out to our Children's Director Trish Johnson at trish.johnson@bethlehemfirstumc.com if you would like to help.