Welcome to Bethlehem First United Methodist Church! We are so glad you are interested in learning more about the church!
Join us for Coffee with Pastors to learn about membership at Bethlehem First and discover if this is the next step for you. A cup of coffee does not obligate you to membership. For more information contact Rev. Beth Dickinson (see form below).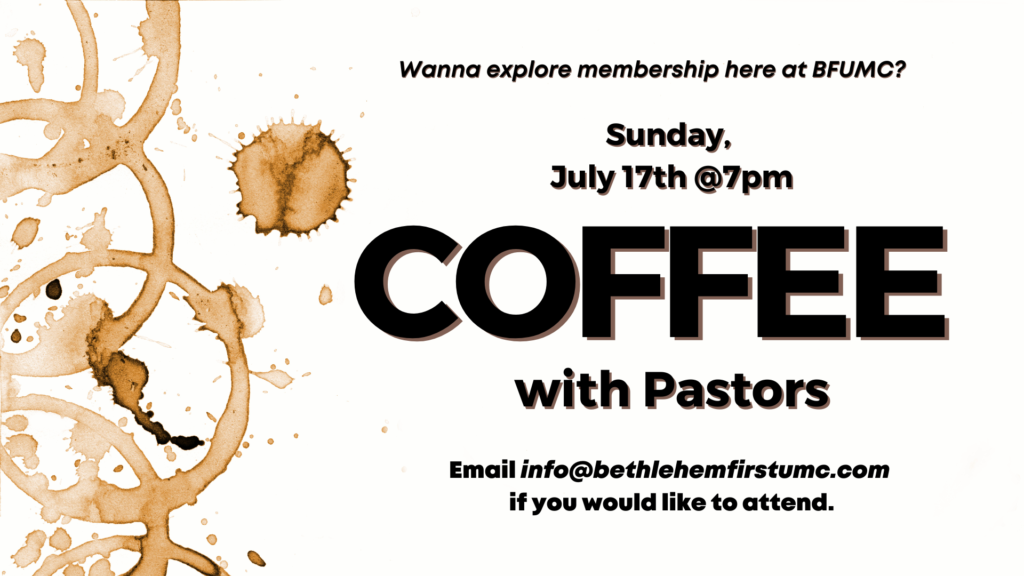 Frequently Asked Questions:
Do you have child care on Sunday mornings?
Yes, child care is offered every Sunday morning for children over 6 weeks old. Check out our Kidz Min page for more info.
We also have Youth services for 6th -12th graders. Check out our Rooted Youth page for more info.
How do I schedule to meet someone at the church who can help my family and me find classes or programs to participate in?
Contact Rev. Megan Gomez (see form below) to learn about adult Grow Groups as well as groups for youth and children.
Are there ways for me to get involved in service projects at BFUMC?
Yes! We support many local, regional and international mission projects. To learn more about a few of the organizations that we support, please click HERE.
How can I speak with a pastor directly?
You can always call the church office at (770)-867-3727 and speak to or leave a message for one of our pastors. You can also reach them through the contact forms below.