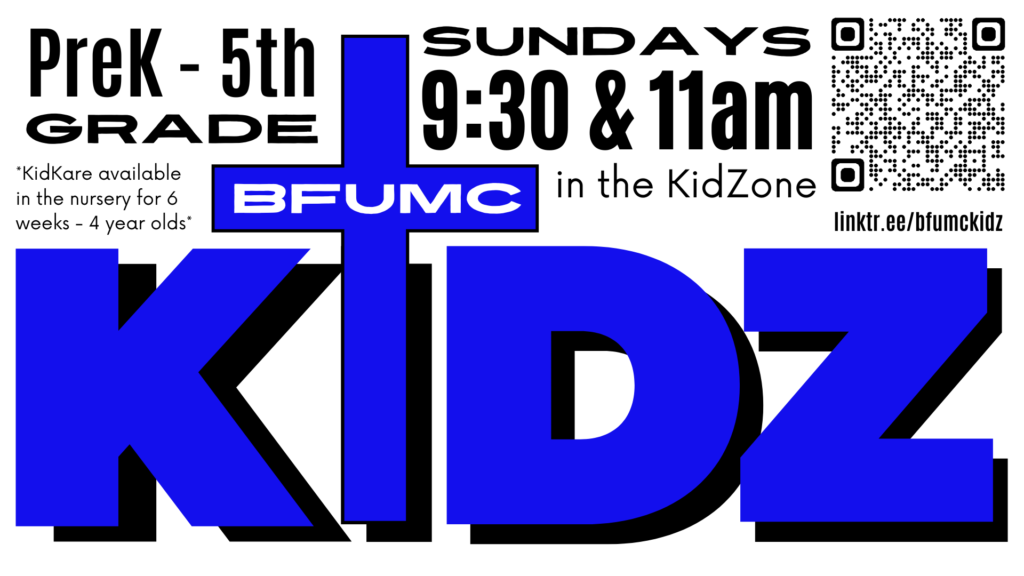 Bethlehem First United Methodist Church is a family of faith that is passionate in its commitment to children and families. We seek to partner with families in providing a spiritual foundation through Jesus Christ in the lives of our children.
At BFUMC our goal is to provide age appropriate opportunities for children to grow as followers of Jesus Christ. They will experience how God is present with them and participate in the life of the church. They will learn to use their Bible, pray, give, serve, and share the good news of God's love and grace. Our desire is to provide quality and relevant experiences through our ministry opportunities. 
We feel that it is important for children to be introduced to "Big Church" early and often, but to also have kid friendly and appropriate Bible lessons and activities. For that reason, we combine the best of both worlds!
On Sunday mornings, Kidz start in worship with their families. At the Casual Service at 9:30am, Kidz stay with their families through the worship songs. Kidz employees and volunteers will lead the children out of service during the offering.
During the Traditional Service at 11am, Kidz participate in the Call to Worship, hymns, Lord's Prayer, Affirmation of Faith (Apostyle's Creed), Gloria Patri, and Doxology. Kidz employees and volunteers will lead the children out after the offering. Kidz will be escorted to the KidZone for Kidz Church. On Communion Sundays (typically the first Sunday of the month), Kidz will be brought back to service to participate in Communion. On every other Sunday, parents will pick up their Kidz in the Chapel.
If you have a 3rd grader or older and they would like to be an acolyte and help light the candles at the beginning of service and present the offering before we leave for Kidz Church, please let me know and we will train them and add them to the rotation.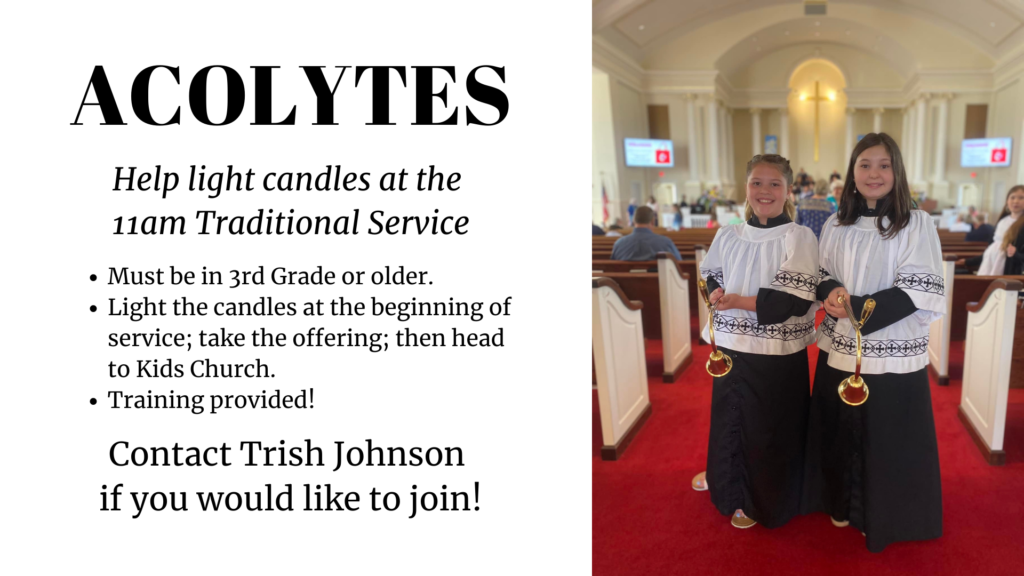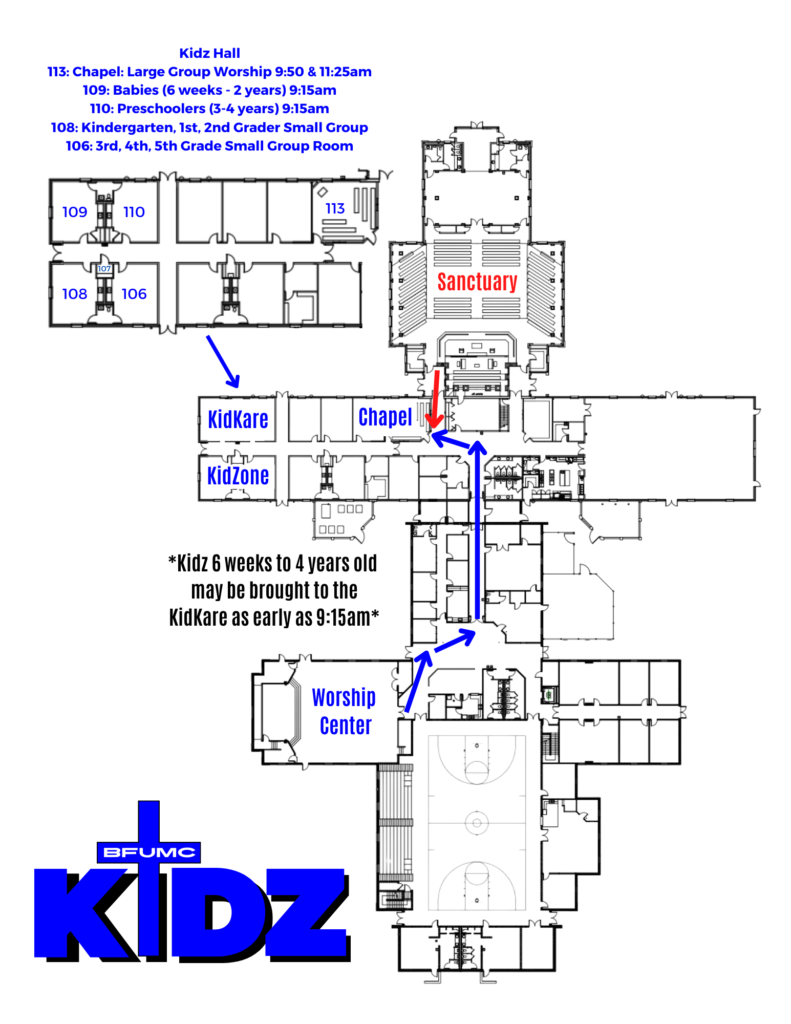 On Epiphany Sunday and Christmas Day (when it falls on Sunday), Kidz will stay in worship with their families the entire service (we will still have KidKare available in the Nursery for 4 and under on those days). You are always welcome to bring your child to service instead of Kidz Church if you feel led to do so. We will provide Busy Bags for Kidz who choose to stay in "Big Church."
Kidz Church is for children in PreK-5th grade who can use the restroom unassisted and sit through lesson videos, large group discussions, activities, and fellowship.
*KidKare Nursery is available for kidz 6 weeks – 4 years old who cannot attend Kidz Church without additional supervision. KidKare Nursery is staffed with paid employees who are trained and better equipped to take care of those children. If your child is 4 and under and goes to KidKare in the Nursery, you will bring your child to the Nursery when you arrive at church (as early as 9:15am) and pick them up there after service.
To stay up to date on all of our upcoming events click HERE!
Getting connected…
Join our community Facebook Page (public) for reminders about our lessons and events that you can share with your friends!
Join our Facebook Group (private) for pictures and praises!
Follow us on Instagram!
Check out our worship and lesson videos on our YouTube Channel!
You can find all of our links to our social media and current events on our LINKTREE!
To stay up to date on all of our upcoming events click HERE!
Join our Remind group using the instructions below!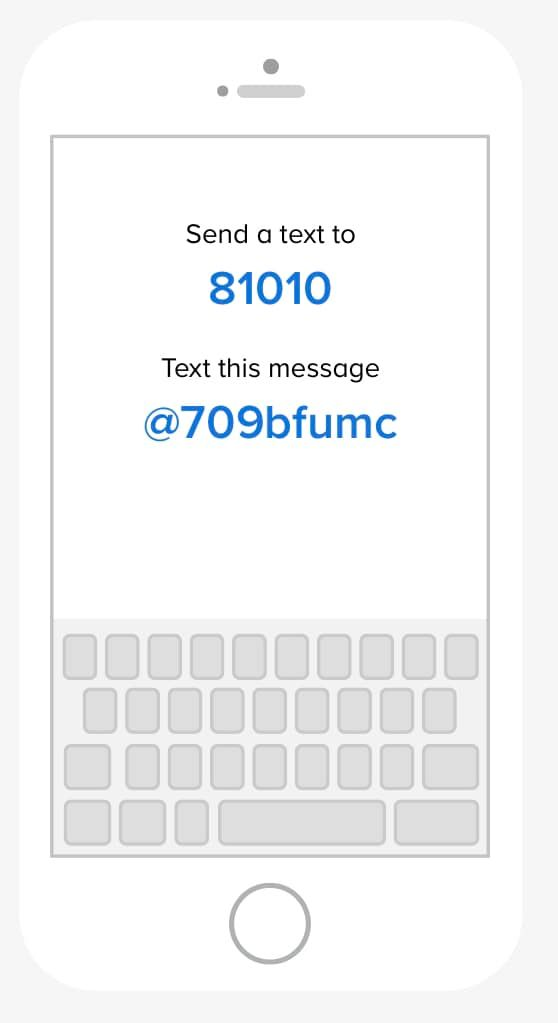 For help plugging into our children's ministry, feel free to reach out to our Kidz Min Director, Trish Johnson (see form below).