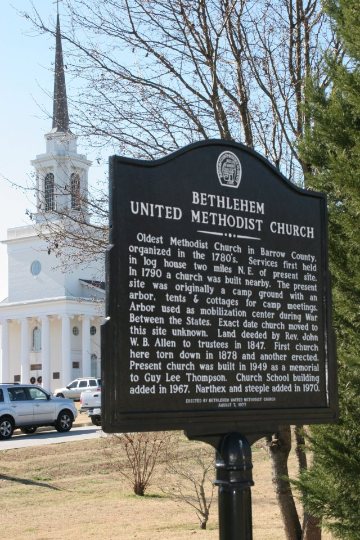 History of Bethlehem First UMC
The following information has been gathered from several sources and edited by Leeon and Frances Pruett (January, 2001)

Bethlehem United Methodist Church is thought to be the oldest church in this portion of Georgia. In the late 1700's and early 1800's this section of our state was being settled by former Revolutionary Soldiers and others from Virginia and the Carolinas. Some of these ex-soldiers received land grants in this area. Included in this group were the families of Frederick Thompson, David Smith, William Holloway, Thomas Camp, Eli Whaley, John Moore, Harvey Treadwell, W.M. Williams and the Thomas and Clack Families.

We do not know the exact date the first church in Bethlehem was organized, nor do we have a complete list of its charter members. However, we do know the individuals listed above were instrumental in founding this church sometime in the late 1700's. A number of our present members are descendants of these founding members.

Harold Harrison, who has so generously built this church in memory of his parents, is a direct descendant of David Smith. Mr. Harrison is also the great, great grandson of Nathan Harrison, a Methodist Circuit rider who preached in the Bethlehem Methodist Church around 1850.

Bethlehem Methodist Church is much older than the town of Bethlehem. In fact, the town was named after the church in 1884 at the suggestion of Judson L. Moore, a member of the church. Two churches were built on the original site prior to 1800 before it was relocated to the property located at the intersection of Manning Gin and Bethlehem Church Roads. The exact date of the relocation is not known. However, the first deed was made to the Trustees in 1847. The deed called for approximately seven and seven-tenths acres which was given by Rev. John W.B. Allen who served the church in 1848. In 1878, this third church was torn down and a new church was built. The congregation worshipped there until a fifth church was built in 1949 as a memorial to Guy Lee Thompson, son of Mr. and Mrs. D.H.C. Thompson, better known as Uncle Dave and Aunt Puss.
The Thompsons willed their estate of $15,000 to be used in building a new church. It was built at a cost of $22,000 and was dedicated on Sunday, December 4, 1949. At that time, the Bethlehem Church was a part of the Gainesville District and also on a charge with six other churches. The other churches were Campton, Corinth, Nazareth, Pentecost, Providence and Statham. In 1957, Corinth Church came out of the Bethlehem charge, then in 1961 Campton and Statham Churches also came off the charge. In 1963, Pentecost and Providence also came off leaving Bethlehem and Nazareth. The Bethlehem/Nazareth Charge was dissolved in 1969 with both churches becoming full time.
We do not have a compete record of all the preachers who served the church prior to 1878, but since then 52 pastors have been appointed. As a church, we have come a long way and still have a long way to go to fulfill our calling. But with unity, trust in God and a new facility, we plan to grow God's Kingdom for many generations to come.
On Sunday, January 21, 2001 our current facility was dedicated to the Glory of God. We thank God for where we have come, where we are and where we are going in Making Disciples for Jesus Christ!
On Sunday, March 29, 2009 a Groundbreaking Ceremony was held immediately following the 11:00 o'clock worship service. We prayed for God's guidance as we planned and prepared for our new Contemporary Worship Center, Gymnasium, Youth Center, Classrooms, and new office space. In March of 2010, the office space was completed and ready for occupants. Worship services began in the Worship Center while construction was still ongoing. In May of 2010, the Open House and Dedication of the Worship Center, Gymnasium, and the office space took place.