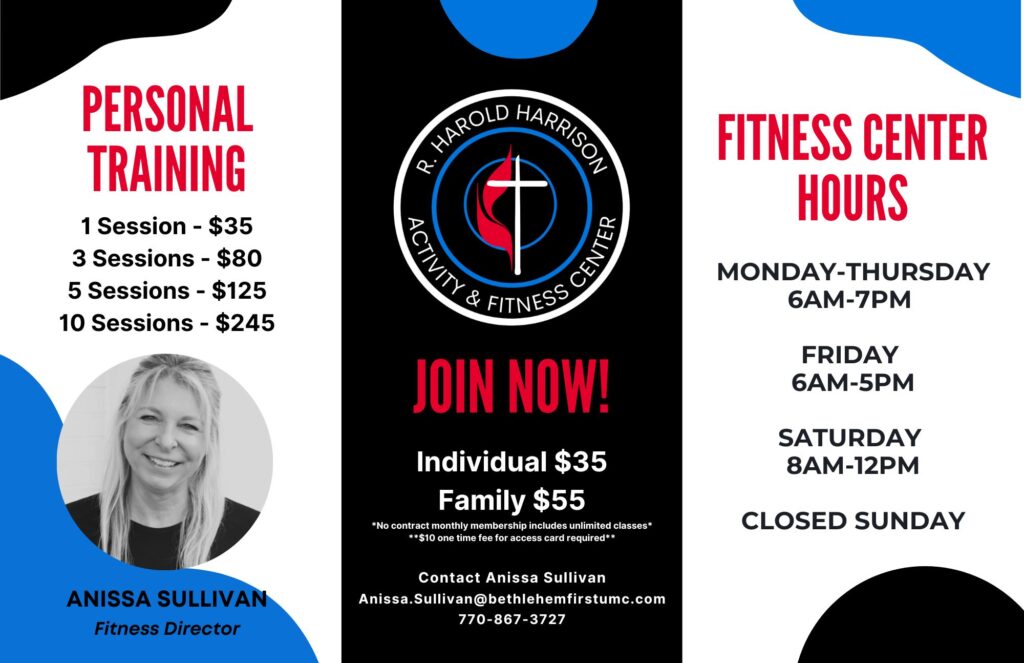 The Activity & Fitness Center at Bethlehem First United Methodist Church is open for membership to the general public and offers competitive rates. If you are interested in touring our facility, stop by or call 770-867-3727, ext. 15, for more information.
Membership Includes: Unlimited Access to the Fitness Center & Group Fitness Classes.
Membership entitles you to use all of the following:
Complete Men and Women's Locker Room Facilities
Personal Fitness Assessment (flexibility, body fat, blood pressure, resting heart rate)
Special Health/Fitness Programs & Events

Cardio
Indoor Cushioned Track
Indoor Basketball
Machines: Treadmills, Stairmasters, Bikes, Elliptical Trainers
Land Aerobic classes with varying intensity levels each week

Strength Training
Free Weights
LifeFitness Strength Training Equipment
Certified Personal Trainers at Competitive Rates

Personal Training
All Activity & Fitness Center existing and new members will be offered a complimentary Fitness Consultation and equipment demonstration. Our certified trainers will help you achieve your fitness goals through individually prescribed programs. So if you have health concerns, weight gain, decreased energy or if you need structure and accountability, email anissa.sull[email protected] or call 770-867-3727, ext. 15, for your free consultation.

Fitness Center Pricing
CHURCH MEMBERSHIP PRICING ($10.00 ACCESS KEY FEE REQUIRED)
FAMILY MONTHLY $50.00
INDIVIDUAL MONTHLY $30.00
SENIOR FAMILY MONTHLY $20.00
SENIOR INDIVIDUAL MONTHLY $15.00
NON-CHURCH MEMBERSHIP PRICING ($10.00 ACCESS KEY FEE REQUIRED)
FAMILY MONTHLY $55.00
INDIVIDUAL MONTHLY $35.00
SENIOR FAMILY MONTHLY $30.00
SENIOR INDIVIDUAL MONTHLY $25.00
STUDENT FITNESS PRICING $19.00
All classes included in membership
Drop in Class rate $3.00 (no membership required)